Buying Cheaper Than Renting, But Some Mortgages Make It a Closer Call
Nationally, buying is 38% cheaper than renting with a traditional 20% down, 30-year mortgage. Buying is an even better deal with a 15-year mortgage, but not as favorable with less money down.
Homeownership remains cheaper than renting nationally and in all of the 100 largest metro areas. In fact, buying is 38% cheaper than renting now, compared with 35% cheaper than renting one year ago. Why is the gap widening? Two reasons. First, in the past year, the 30-year fixed-rate mortgage rate has fallen from 4.8% to 4.3%. Second, rents have risen faster than prices, excluding foreclosures. Together, these trends have made buying even more affordable versus renting than it was last year.
Read the rest of the article at Trulia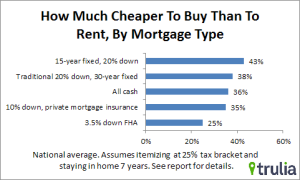 Buying vs. Renting in Oregon & Washington.